Czym jest Targetprocess?
Targetprocess is an agile portfolio and work management solution which natively supports SAFe and other frameworks for scaling Agile. It provides a bi-directional integration with team-based tools like Azure DevOps. Targetprocess empowers enterprises to achieve business agility and see the value flow through the entire organization.
Recognized in Gartner's Magic Quadrant for Agile Enterprise Planning Tools.
Kto korzysta z produktu: Targetprocess?
Targetprocess is great for medium-sized companies and large enterprises. Can be used to effectively manage both IT and non-IT projects from financial and oil&gas industries.
Gdzie można używać produktu: Targetprocess?
Na chmurze
Lokalnie
Filmy i zdjęcia produktu: Targetprocess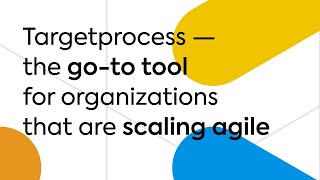 Porównaj produkt: Targetprocess z podobnymi produktami
Funkcje produktu: Targetprocess
Ankiety i informacje zwrotne
Budżetowanie/prognozowanie
Do zarządzania projektami IT
Konfigurowalne wzory
Konfigurowalny pulpit
Mapowanie drogi produktu
Metodologia Agile
Monitorowanie wskaźników KPI
Narzędzia do pracy zespołowej
Planowanie projektu
Planowanie projektu/ustalanie harmonogramów
Planowanie sprintu
Planowanie strategiczne
Planowanie wydań
Portal dla klientów
Prognozowanie
Pulpit
Pulpit działań
Raportowanie/analityka
Raportowanie/śledzenie projektu
Tablica Kanban
Udostępnianie plików
Ustalanie priorytetów
Widok Gantta/linii czasu
Wizualizacja
Zarządzanie budżetem
Zarządzanie celami
Zarządzanie komunikacją
Zarządzanie pomysłami
Zarządzanie portfelem
Zarządzanie przepływami pracy
Zarządzanie ryzykiem
Zarządzanie sprawami
Zarządzanie szablonami
Zarządzanie wymaganiami
Zarządzanie zadaniami
Zarządzanie zaległościami
Zarządzanie zasobami
Zarządzanie zmianą
Śledzenie czasu pracy i wydatków
Śledzenie kamieni milowych
Śledzenie kosztów ukończenia
Śledzenie postępów
Śledzenie procentowe – pełne
Śledzenie statusu
Rozwiązania alternatywne dla produktu: Targetprocess
Targetprocess – Recenzje od zweryfikowanych użytkowników
Mark
Executive Director of Agile Management and Technology w kraju: USA
Zweryfikowany użytkownik LinkedIn
Usługi informacyjne, Pracownicy: 1 001-5 000
Wykorzystano oprogramowanie w następującym celu: ponad 1 rok
Rozważane rozwiązania alternatywne:
Powerful Software for Agile Organizations, Could Improve in Usability on Higher End Functionality
Komentarze: We are using Targetprocess in our daily Agile practice. Our developers and Product Owners are trained in its use, and it is a huge piece of our practice. The software is key to our Agile efforts, and is relatively easy to set-up and use. However, the buyer should be aware that unless you deploy one of the pre-built frameworks, you will be starting with a clean slate, and will have to build your own structures, and this can take a bit of thought and time. I enjoy using the software, and we intend to renew our license for the next year, and will be making efforts to expand the user base. The ability to define different workflows for different teams is very powerful, as is the Request Portal, and other more DevOps type features. Story card aging is another nice feature that we now implement through custom rules.
Zalety:
Excellent pricing structure, easy to set up, and implementation/training professional services are first rate. The software is powerful and can handle various different approaches to Agile/Agile Scrum, and comes with pre-built solutions for frameworks like SAFe. Our organization was up and running in little time.
Wady:
Some of the more powerful features, such as creation of rules could be more straightforwardly implemented. Some features have a "coding" feel to them that could improve in usability, user-friendliness. The software is sensitive to hierarchical structure of Agile entities, and you have to get this right. The ability to move/transform entities into different levels of the hierarchy could be improved, and sometimes can disconnect entities from the hierarchy, forcing the user to reconnect them manually.
Zweryfikowany recenzent
Chief Digital Officer w kraju: USA
Zweryfikowany użytkownik LinkedIn
Marketing i reklama, Pracownicy: 51-200
Wykorzystano oprogramowanie w następującym celu: ponad 2 lata
Rozważane rozwiązania alternatywne:
Powerful agile project management tool
Komentarze: We started small with one client and project, then slowly added all our clients and projects. Some clients had other requirements and TP was easily able to handle what we needed as we expanded it's usage into sprint planning, daily check in, project planning, releases, automated reporting, etc. What I like best is the confidence it gives me that it will be able to grow with our needs into the future.
Zalety:
As our organization continues to grow and have more complex needs, Targetprocess can easily handle whatever our needs are and helps us to grow using standardized methods no matter the project. Also, we have many creative people in the tool and it's user friendly for the non-technical types too.
Wady:
It's great power can also be a weakness, as getting it setup and configured requires planning offline, team alignment and understanding before moving the workflow to a digital tool like Targetprocess. Having someone who understands Agile and programming is best to get this setup for you as its so customizable it can be intimidating.
Zweryfikowany recenzent
Director, Enterprise PMO w kraju: Luksemburg
Zweryfikowany użytkownik LinkedIn
Gry komputerowe, Pracownicy: 1 001-5 000
Wykorzystano oprogramowanie w następującym celu: ponad 1 rok
My experience with Targetprocess
Komentarze: We are using Targetprocess mostly for Product Backlog management. It helps us to visualize backlogs of different teams inside of one product and create a "big picture". Service organisations are using Kanban practices and it perfectly solves prioritization and backlog management issues.
Zalety:
- Flexibility of the tool, customization options - Ability to create any kind of process workflow - Out of the box Kanban metrics - Representation of data on views and boards in any kind of form, for different stakeholders - Visual cards and thier options - Ability to automate process steps with web hooks and metrics
Wady:
- Timeline is not useful - Interdependencies management is poor - Reporting engine, options are limited - Customisation of entity view is not possible - Access management options is limited - Lack of capacity/resource management functionality - Lack of Portfolio management (cost management, portfolio roadmaps, strategic dashboard, what if analysis)
Aaron
Software Development Manager w kraju: Australia
Transport/ciężarówki/rolnictwo, Pracownicy: 11-50
Wykorzystano oprogramowanie w następującym celu: ponad 1 rok
Rozważane rozwiązania alternatywne:
Excellent alternative to JIRA
Komentarze: We used JIRA for several years and it's good, but the lack of proper integrated hierarchy means organising 10,000+ items is just impossible. Even 3rd party plugins dont help much. The UI is slow and unattractive and after 6 months trying to get JIRA Porfolio to work (a cool idea!) I could never get it to and the response from Atlassian was disappointing overall.
The UI is much, much better in Target Process and
Zalety:
* Responsive UI * Adding many stories at once is easy so doesn't interrupt your flow * Incredible customer support responsiveness * Dashboards are 10x better than anything in JIRA * Reports are built in and very well designed, things you have to buy from 3rd parties in JIRA (if you even can)
Wady:
* Roadmapping is harder than it looks, some planning features missing means i can't throw away my gantts just yet but it's getting close * Search results have way too much white space, can be hard to find exactly what you're looking for - JIRA was better at this * Difficult to learn the filtering side of things for anything more than basic needs (but their customer support team are amazingly supportive on this, even writing a script for me immediately to address my individual need). Oh, this is meant to be the con section isn't it. ;-) * Workflows aren't quite as customisable as JIRA, such as setting triggers and custom screens
Bruno
Director w kraju: Brazylia
Oprogramowanie komputerowe, Pracownicy: 11-50
Wykorzystano oprogramowanie w następującym celu: ponad 2 lata
Rozważane rozwiązania alternatywne:
Awesome product for the right cases
Komentarze: TP helped us a lot to manage a complex project that had many teams working in parallel in a large product roadmap. My conclusion was that to be worth the investment the teams should take advantage of all the features and metrics that it can generate. Depending on client's project management in some cases it was not possible to use correctly sprints and generate metrics. In those cases we ended migrating to other tool (such as Trello).
Zalety:
Tons of good features Very flexible and powerful
Wady:
Expensive for companies in Brazil As we are a consulting company, there wasn't a good (and cheap) way to add clients to the projects with the ability to add comments to cards without purchasing a license. In some cases there were more than 10 people involved in the project that would have very small interactions. It would not make sense to purchase licenses for everyone.