Czym jest Regiondo?
Regiondo is Europe's leading booking software for the leisure industry. We help tour, activity & attraction providers to sell tickets online, manage bookings, connect with leading online travel agencies and grow their business faster.
Regiondo provides an all-in-one scalable digital infrastructure with a variety of tools for online payments, ticket scanning, sales reports, onsite bookings, channel management and marketing.
Kto korzysta z produktu: Regiondo?
More than 7.000 partners from the travel industry already use the system successfully. Whether you offer an amusement park, a zoo or cooking classes, Regiondo is adaptable to your needs.
Gdzie można używać produktu: Regiondo?
Na chmurze
Lokalnie
---
Informacje o sprzedawcy
Regiondo
W miejscowości: Munich, Niemcy
Założona w 2011
Wsparcie dla Regiondo
Telefoniczna obsługa klienta
24/7 (agent na żywo)
Czat
Informacje o sprzedawcy
Regiondo
W miejscowości: Munich, Niemcy
Założona w 2011
Wsparcie dla Regiondo
Telefoniczna obsługa klienta
24/7 (agent na żywo)
Czat
Filmy i zdjęcia produktu: Regiondo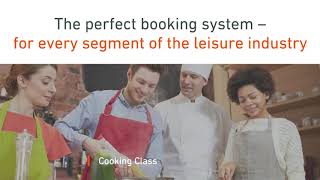 Porównaj produkt: Regiondo z podobnymi produktami
Funkcje produktu: Regiondo
API
Aktualizacje w czasie rzeczywistym
Automatyzacja marketingu
Baza danych klientów
Centralny system rezerwacyjny
Dla biur podróży
Dla salonów i spa
Dostęp mobilny
Integracja mediów społecznościowych
Integracja rachunkowości
Integracje z podmiotami zewnętrznymi
Kalendarz wydarzeń
Konfigurowalne kształtowanie marki
Konfigurowalne raporty
Oferty cenowe/kosztorysy
Ostrzeżenia/powiadomienia
Potwierdzenie/przypomnienia
Profile klientów
Promocja społeczna
Przetwarzanie płatności
Pulpit działań
Punkt sprzedaży (POS)
Płatności online
Raportowanie i statystyki
Raportowanie/analityka
Rejestracja grupowa
Rejestracja na miejscu
Rejestracja odwiedzających
Rejestracja online
Rezerwacja działań
Rezerwacja online
Rezerwacje grupowe
Rozwiązanie CRM
Spotkania cykliczne
Synchronizacja kalendarza
System kalendarzy/przypomnień
Tworzenie planu podróży
Tworzenie przesyłek
Ustalanie harmonogramu spotkań
Ustalanie harmonogramu zdarzeń
Uwagi dotyczące rezerwacji
Wielomiejscowy
Wsparcie klienta
Zarządzanie cenami
Zarządzanie kalendarzem
Zarządzanie klientami
Zarządzanie kontaktami
Zarządzanie odznakami
Zarządzanie promocjami
Zarządzanie rejestracjami
Zarządzanie rezerwacjami
Zarządzanie stronami internetowymi
Zarządzanie zapasami
Zarządzanie zasobami
Zautomatyzowane ustalanie harmonogramu
Zgłaszanie zdarzeń
Śledzenie uczestników
Rozwiązania alternatywne dla produktu: Regiondo
Regiondo – Recenzje od zweryfikowanych użytkowników
Annette
Zweryfikowany użytkownik LinkedIn
Wykorzystano oprogramowanie w następującym celu: 6–12 miesięcy
Źródło: GetApp
Just perfect
Komentarze: The service is perfect for our needs and we are very happy about the collaboration with Regiondo.
In fact we are "just" a small manufacturer for marmelade, mustard and BQQ-sauce, we wanted to show our (potential) customers, who we are, what we are doing and how we do it. So we were searching for a partner who provides us the best service and help us to promote our tour through our company.
We got some new customers who even did not know before that we do exist. They just found us by a search with Region, what they can do in the area we belong to.
We can highly recommend Regiondo.
Zalety:
The service is great. Regionda helps even small companies to get known in a wide area.
Wady:
We have no cons about Regiondo.
Odpowiedź sprzedawcy: Regiondo
6 lat temu
Thanks for the great review! We are always happy to hear that our customers are satisfied with our service.
Paolo
Amministratore w kraju: Włochy
Sport, Pracownicy: 2-10
Wykorzystano oprogramowanie w następującym celu: ponad 2 lata
Indispensabile
Zalety:
Sistema pensato per essere impiegato a veri livelli oltre la semplice prenotazione. Rappresenta un sistema di gestione delle informazioni interne , utilizzabile da molti collaboratori con differenti accessi e permessi, per informare i clienti sulle specifiche dell'attività in tempo reale. Uno strumento che soprattutto fornisce informazioni indispensabili per le analisi di digital marketing. La nostra strategia di acquisizione ruota intorno a questo strumento.
Wady:
Se utilizzato in maniera intensiva fa emergere bug di sistema che necessitano del tempo per essere risolti.
Mark
Director w kraju: Wlk. Bryt.
Wypoczynek, podróże i turystyka, Pracownicy: 2-10
Wykorzystano oprogramowanie w następującym celu: 1–5 miesięcy
Rozważane rozwiązania alternatywne:
Could not get it to work in £ and packages broke every day
Komentarze: Moving to Regiondo was a disaster for us. The booking system did not work and we lost loads of bookings and eventually turned it off and went back to our previous supplier.
Zalety:
The booking system looked good and were were told it would support package deals e..g. two activities at a discount.
Wady:
The booking system could not do the most basic addition. If someone selected a £30 activity the total came out at £35.64. Regoindo spent weeks trying to make it work without success. Package deals were setup, but kept displaying that they were fully booked. We got it fixed then it broke again, day after day after day. Reports from Regiondo are in Excel in german format with a comma in place of a decimal point, so a UK version of Excel cannot make sense of it.
Odpowiedź sprzedawcy: Regiondo
2 tygodnie temu
Hi Mark, We are very sorry to hear that you haven't had a positive experience with Regiondo. We appreciate that you took the time to share your experience and value your feedback. Our team is working hard on improving our system and have already fixed the issues with the currency differences you mentioned. Unfortunately, some use cases connected with integrations with third-party systems, such as Google Calendar require more time to be solved, as they often need to be fixed by our integration partners themselves or depend on the logic of the integration partner. If you do need any further assistance, please feel free to reach out to our customer service team directly. Best regards, Regiondo team
Lara
Direttrice w kraju: Włochy
Muzea i instytucje, Pracownicy: 2-10
Wykorzystano oprogramowanie w następującym celu: ponad 2 lata
Ecomuseo Argentario
Zalety:
The software is easy to use and it's possibile to embed it in the web site of the organization.
Wady:
The Stripe report about the weekly takings is not clear and difficult to check. There's also a lack of some data for the Italian accounting regulations. The combo offer is not flexible: you can't choose which offer book first. You can't delete old ticket categories and the always appear when you add a new reservation.
Daniel
Gemeindevertragsbediensteter w kraju: Austria
Administracja państwowa, Pracownicy: 11-50
Wykorzystano oprogramowanie w następującym celu: ponad 1 rok
Flexible Software für alle möglichen Anwendungsgebiete
Komentarze: Wir haben damit unseren Fahrradverleih digitalisiert, verkaufen Eintrittskarten für Führungen und Veranstaltungen und konnten somit das Personal entlasten. Es zahlt sich jedenfalls aus!
Zalety:
Produkt ist sehr flexibal und kann individell angpasst werden. Wir verkaufen damit Tickets für Führungen, verleihen Fahrräder, verkaufen Eintrittskarten für Veranstaltung aber haben auch schon Bustouren organsiert und Zustiegsstellen online buchbar gemacht.
Wady:
Die Einrichtung ist manchmal etwas umständlich aber daran wird gearbeitet.