Czym jest Todoist?
Todoist is the world's #1 to-do list & task manager to organise your life and work. Regain clarity and calmness by getting tasks out of your head and into Todoist, no matter where you are or what device you use. It's a simple yet powerful to-do list app ranked best-in-class by Apple, Google, The Verge, Forbes, and more. Since 2007, over 25 million people have used Todoist to organize work and life, completing more than two billion tasks along the way.
Kto korzysta z produktu: Todoist?
Personal and team productivity.
Gdzie można używać produktu: Todoist?
Na chmurze
Lokalnie
Filmy i zdjęcia produktu: Todoist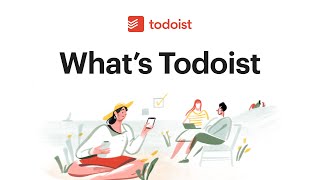 Porównaj produkt: Todoist z podobnymi produktami
Funkcje produktu: Todoist
Dla małych firm
Edycja/aktualizacja zadania
Konfigurowalne wzory
Narzędzia do pracy zespołowej
Ostrzeżenia/powiadomienia
Planowanie projektu/ustalanie harmonogramów
Powiadomienia w czasie rzeczywistym
Raportowanie i statystyki
Raportowanie/śledzenie projektu
Tablica Kanban
Tworzenie podzadań
Udostępnianie plików
Ustalanie harmonogramu zadań
Ustalanie priorytetów
Uwagi/notatki
Widok Gantta/linii czasu
Wyszukiwanie/filtrowanie
Zadania cykliczne
Zarządzanie notatkami
Zarządzanie przepływami pracy
Zarządzanie zadaniami
Zdalny dostęp/sterowanie
Znakowanie
Znakowanie zadań
Śledzenie aktywności
Śledzenie czasu pracy i wydatków
Śledzenie postępów w realizacji zadań
Śledzenie projektu
Śledzenie statusu
Rozwiązania alternatywne dla produktu: Todoist
Todoist – Recenzje od zweryfikowanych użytkowników
Darien
Associate Pastor w kraju: Kanada
Zweryfikowany użytkownik LinkedIn
Instytucje religijne, Pracownicy: 11-50
Wykorzystano oprogramowanie w następującym celu: ponad 2 lata
Rozważane rozwiązania alternatywne:
Todoist is a powerful, intuitive to-do list application with many features & only a few flaws
Komentarze: Overall, Todoist has been a life-saver, allowing me to simplify my work life and organize the numerous projects & tasks I have to juggle. While it can be complicated at times and lacks certain features I would love to see, it is the best project management app I've ever used, and I would sorely miss it if Todoist were to be shut down.
Zalety:
Todoist has simplified my work life - helping to organize all my tasks, projects, and meetings in a simple way that ensures no project is missed. While there is a bit of a learning curve to figure out how to best utilize & organize the platform, the simplicity of it's core features makes it easy for anyone to pick up and use. You are able to hop on their website or app and add a task in an instant; with the ability to schedule the due date, priority, and set it up in a specific project very quickly using their shortcuts. With their team collaboration features, you are also able to assign specific tasks to specific people, allowing for quick and ease collaboration and project management. Plus, Todoist offers numerous templates that help facilitate setup, and a very simple "Karma" rewards system that helps encourage use (and helps make you feel accomplished).
Wady:
Todoist offers numerous systems, but unfortunately it can be a bit of a learning curve to learn all the shortcuts (especially when they change periodically) and an effective way to organize the projects & tags. As well, while they offer simple ways to import their templates and allow you to export templates of your own, they don't offer a simple cloud storage solution for those templates - so to load an exported template, you need to download it, keep it, and reupload it when needed. Lastly, they lack the ability to setup certain types of tasks; such as a task with subtasks that all repeat weekly - currently you can schedule them all to happen each week, but the subtasks end up getting listed as full tasks on the due date.
Maszni
Senior Web Developer w kraju: Malezja
Zweryfikowany użytkownik LinkedIn
Rozrywka, Pracownicy: 1 001-5 000
Wykorzystano oprogramowanie w następującym celu: ponad 1 rok
Get organized with Todoist
Komentarze: I need a simple software that i can relied on to managing my days, and Todoist is the best option for that objective. It can be connected or integrated with Google Assistant which will remind me of my event on my calendar with it voice.
Zalety:
The best thing that i really like is it can be access from various device and no need to install the software into the device. I use it as my organizer to schedule, remind and organized all my daily task and to-do list, either for my work task or for my personal task. It is not packed with feature like other project management software, but still can get the work done.
Wady:
It lacked of feature that i need and sometimes it is quite frustrating and i have to using other software to get it done. Other than that, It is very helpful in reminding and scheduling my day and not too expensive to subscribing its premium plan.
Isidoro
Agente de Seguros Exclusivo w kraju: Hiszpania
Ubezpieczenia, Pracownicy: 201-500
Wykorzystano oprogramowanie w następującym celu: ponad 2 lata
Rozważane rozwiązania alternatywne:
El mejor gestor de tareas que he conocido hasta la fecha
Komentarze: Desde que lo descubrí, vale cada céntimo que se pague por el programa. Incluso con la versión gratuíta es realmente bueno
Zalety:
La personalización, la utilidad, facilidad de gestión. Atajos.
Wady:
No echo en falta nada por ahora. Incluso las actualizaciones se producen con frecuencia y no hay bugs aparentes
Saloni
Assistant Professor w kraju: Indie
Badania, Samozatrudnienie
Wykorzystano oprogramowanie w następującym celu: Bezpłatna wersja próbna
If you use windows — go for it!
Komentarze: I would have gone forward with Todoist if I was only using windows and android. But the fact that it does not utilise some of the very distinctive functionalities that task managers on apple OS can was a big kill for me.
Zalety:
It could be used across various devices and operating systems. Also, the user guides for project management are exceptionally good! There's a wide range of project templates that the company offers.
Wady:
It does not integrate well with the apple ecosystem as other task managers such as Omnifocus and Things 3 do. I would have liked a drag and drop option for email in this task manager. I would have also liked to have my calendar integrated in the day view and not in a separate tab. The interface could have been more minimalistic.
Sarah
System Administrator w kraju: USA
Zweryfikowany użytkownik LinkedIn
Technologia i usługi informacyjne, Pracownicy: 10 000+
Wykorzystano oprogramowanie w następującym celu: ponad 2 lata
A Great Way to Keep Yourself Organized and Productive
Komentarze: It has a lot of wiggle room. Jobs may be broken down into smaller tasks, and each task can be scheduled. Custom categories can be created by you. On the go, there's an app to keep track of things. Has access to a wide range of equipment. And you'll get daily email reminders, with a lot of encouragement, as well.
Zalety:
Todoist is a simple task management tool. Todoist may be accessed from a variety of devices. There are two ways to access it: online and on the go. User satisfaction will be enhanced by the fact that data is synchronized and may be modified simply. Managing task lists is a breeze because to the user-friendly layout, which makes it easy to find the most important features. It is possible to prioritize activities in Todoist, as well as add comments to each job and estimate the amount of time it will take to finish it.
Wady:
You have to keep going and be aggressive in order to succeed. A to-do list might start to feel like simply another thing to check off your list if you aren't actively interested in it. That's not Todoist's fault, though. But if you're serious about utilizing it, you'll need to put in the time and effort.