Keap
Czym jest Keap?
Grow your business with the all-in-one CRM, sales & marketing software for serious business owners. Our platform organizes your customer information and daily work in one place, freeing you up from
Czytaj dalej
repetitive tasks so you have more time to focus on growing your business.
Czytaj mniej
Kto korzysta z produktu: Keap?
Freelancers/self-employed, micro-enterprise, Small businesses, medium-sized companies, Large companies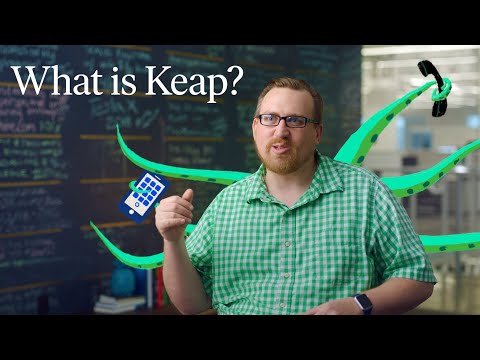 Nie jesteś pewien, czy Keap spełni Twoje potrzeby? Porówaj z popularnymi produktami alternatywnymi
Niedostępny w Twoim kraju
Wersja bezpłatna
Bezpłatna wersja próbna
Wersja bezpłatna
Bezpłatna wersja próbna
Rozwiązania alternatywne dla produktu: Keap
Keap – Recenzje od zweryfikowanych użytkowników
Kavindu Githsara
Technical System Specialist w kraju: Sri Lanka
Zweryfikowany użytkownik LinkedIn
E-Learning, Pracownicy: 11-50
Wykorzystano oprogramowanie w następującym celu: ponad 2 lata
Well Established Online CRM Platform with Marketing Tools
Komentarze: We used keap to manage our customers database. we did email marketing, lead generation , internal forms, email templates and automate campaigns and more. I'm happy to tell you, even we can find lots of cheap CRM systems out there, Keap is the best and it's worth for money. because, everyday they are trying to give us the best experience. we got recurring updates with lots of new features. One more thing to mention. There customer support was very helpful for our staff when they onboarding. Not only for staff but for admin too. timely support is given by them. I would like to recommend Keap CRM for any business out there. go ahead without any hesitation. At first it will be hard to adopt a new system. but when it comes to Keap, They will help you to get there without any troubles.
Zalety:
This system has everything that needs for a business for up and running. Even for a startup business also able to adopt this system to their workplace very easily. The best feature that i saw is Email Automation. As a admin i was able to create and schedule lots of email campaigns for our customers. it is very easy and straight forward. Campaign builder interface is very user friendly. even my non computer literacy people also can build and automate an process within few minutes. It provides lots of integration options with third party applications. Also It provides lots of tools to manage our marketing procedures.
Wady:
Nothing to complain but i would like to mention that there should be more tutorials/guides and onboarding trainings for users.
Odpowiedź sprzedawcy: Keap
w zeszłym miesiącu
Hi Kavindu, Thank you so much for taking the time to leave a review! I'm glad to hear that Keap's feature set has met many of your business needs and our support team helped you integrate it seamlessly into your business.
Jeff M
CEO w kraju: USA
Zweryfikowany użytkownik LinkedIn
Internet, Pracownicy: 2-10
Wykorzystano oprogramowanie w następującym celu: ponad 2 lata
Rozważane rozwiązania alternatywne:
All in one business solution.
Komentarze: Its been good. The have helped me create over twenty one thriving businesses. I am still creating more.
Zalety:
The automation of all of the different Services needed to run a small business. CRM, phone, text in the app or desktop, email, scheduling, quotes, invoices, estorefront, Payment Gateway, Keap is all you need to run a local business.
Wady:
The didn't have any pre configured solution for specific industry like contractors, handyman or brick and mortar stores, Doctors or Dentist, etc.
Anthony
Business Analyst w kraju: Australia
Zarządzanie organizacjami non-profit, Pracownicy: 51-200
Wykorzystano oprogramowanie w następującym celu: ponad 2 lata
Wiped our data and was not able to retrieve it
Komentarze: Negative.
Zalety:
No comment as our expierience was negative.
Wady:
The system was setup and the processes were flowing, however, at one point the credit card expired and the account/data got wiped. After heavily researching and trying to find out what happened we found that the account rep only contacted the email they had on file (which was incorrect) before wiping our data. At no point was our organisation contacted by any other means i.e. telephone, other than contacting the incorrect email address. Our data and configurations have now been wiped and are irretrievable.We have been told that our only option is to start an account and create the process again. Unacceptable for a company practice.
Denise
Marketing Specialist w kraju: USA
Zweryfikowany użytkownik LinkedIn
Marketing i reklama, Pracownicy: 201-500
Wykorzystano oprogramowanie w następującym celu: ponad 1 rok
Keap, a robust and user-friendly program
Komentarze: It provides us with the flexibility to perform a wide range of segmentation operations to meet our specific requirements; for example, when developing a marketing campaign, we can divide our target audience into subsets based on factors such as their level of product familiarity, the frequency with which they make purchases, and their potential lifetime value as customers. It also includes a customer relationship management system that lets us delegate work and monitor both individual and collective productivity.
Zalety:
With the support of Keap, I am able to automate my clients' operations. Through the use of numerous opt-in methods, I am able to collect leads, develop and release goods, and set up automated distribution schedules for both products and campaign emails. In order to streamline the referral procedure, you can use the referral partner function.
Wady:
If a contact does not seem to be actively engaged, Keap will mark it as opted out. To fully take advantage of the program's features, I believe it requires a significant time commitment to study each module and tool.
Odpowiedź sprzedawcy: Keap
2 miesiące temu
Hi Denise, Thank you so much for taking the time to leave a review. I'm so glad to hear tha Keap is an effective solution in your business for lead management, SEO, and more.
Joane DanElle
CEO, Brand Strategist and Coach/Mentor w kraju: Australia
Marketing i reklama, Pracownicy: 2-10
Wykorzystano oprogramowanie w następującym celu: 1–5 miesięcy
Rozważane rozwiązania alternatywne:
Designed for advanced marketers!
Komentarze: Overall, I see the benefits of Keap/Infusionsoft and if I had the big budget to hire someone to set it all up, I can see how powerful it could be. But unfortunately, I was sold a solution that I was no where near ready for. I think this is perfect for the advanced marketer who has plenty of experience with funnels, CRM, automation etc. Unfortunately for me, it was too much, too soon!
Zalety:
I loved how it was an all-in-one platform!
Wady:
It was incredibly hard to set up and use because the sales person forgot to mention that it was a robust solution for the more experienced marketer. So when I was first learning to create funnels, Keap/Infusionsoft was just too advanced for me.
Odpowiedź sprzedawcy: Keap
3 miesiące temu
Hi Joane, I'm sorry to hear that you found Keap difficult to set up in your business. I encourage you to check out some of our resources - including our onboarding coaching options, our live events designed to help you in your Keap app (https://keap.com/resources/events) and the Keap help center (https://help.keap.com/help) to get better acclimated in your app.